Special Interest Club Related Items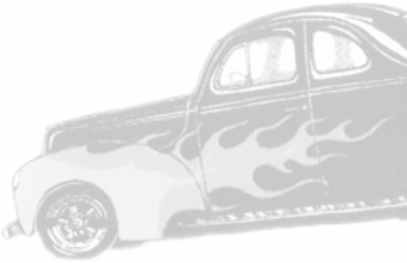 Useful Sites
Trials and Tribulations:
Humorous musings of events gone by






THE BLACK SHADOW




Mathew Hurwitz



Back in 1955 when I was 19 years old I was into motorcycles as well as hot rods. My first bike was a Matchless 500 cc vertical twin the best handling British bike on the market. It was pretty fast but I wanted something quicker. Somebody told me about the Vincent Black Shadow, which was the world's fastest production motorcycle. Their 998 cc V-twin engines were glossy black. Vincents were the first superbikes before there was a name for them. I found a dealer in Bellingham who sold Triumphs and Vincents. I ordered a 1955 Black Shadow series D. As soon as the bike arrived the dealer called me. I rode my Matchless over to Russ Sonier's shop to pick up the machine. There was a reporter and photographer from some motorcycle magazine waiting for me at the dealership. They were doing a story about the last Vincent motorcycle to be imported into the US. That was mine. I was so eager to ride on my new bike that I ignored the magazine guys. I gave the dealer my Matchless and $1000 in cash, he swapped over my plates and handed me the keys. Russ gave me a quick tutorial on how to kick start the bike, using its tricky compression relief, and off I went, smiling from ear to ear. I never even asked the name of the magazine that covered the story or when it would come out.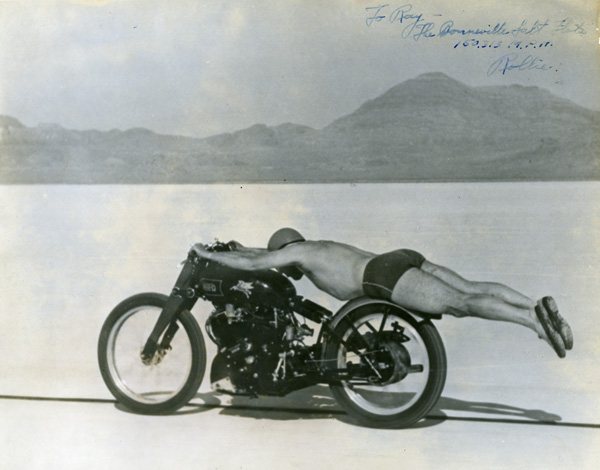 After about a week or so getting used to the bike, I decided to take it out to see if it would actually go 125 mph as advertised. I took it up to 100 and it developed a little front wheel wobble so I backed off and tightened up the frictional steering damper using the knob located above the steering stem. On my second attempt the Black Shadow delivered its promise. That was the first and last time I ever rode the bike at top speed. It was a handful for an inexperienced rider and I had heard stories of some local guy who had recently been killed on his Vincent. By the way, in 1948 Rollie Free set a record at Bonneville at 150.313 mph on a Vincent. There is a famous picture showing him making the run in the prone position to reduce wind resistance, wearing only a bathing suit. That eclipsed the prior record of 136 mph held for 11 years by Harley Davidson. Seven years later in 1955, Russell Wright set a land speed record at 184.83 mph on a Vincent.

It wasn't long before I got rid of the muffler and ran with open exhaust pipes. What a deep sexy sound that motorcycle made!!! The bike handled almost as well as my Matchless. It accelerated faster than any vehicle I had ever driven on the highway. Only my dragster, which I campaigned in the late 50s, accelerated faster. It was much quicker than my souped-up 1939 Ford coupe both in acceleration and top speed. I could beat any other motorcycle in a drag race and I was never beaten by any car except one. Laughably that was by a stock 1953 Chevy driven by two young priests at a signal light in Newton Center. I had just come off Route 128 and had forgotten to loosen the steering damper. As I pulled ahead of the fathers I took my left hand off the bar to back off the damper and the bike went to a tank slapper spitting me off before I knew what was happening. I slid along the road on my back. Luckily I was wearing a helmet and leather jacket. My bike and I came to rest at the curb. The priests continued driving right on down the road as if nothing happened, not even stopping to see if I needed help or to administer the last rites. They won the drag race, I lost. I dusted myself off, checked the bike for damage, and seeing nothing more than a bent mirror, a bent handlebar, and a slightly scuffed tranny case, I hopped on and rode off, having learned a good lesson on the proper use of the steering damper. The only problem I ever had with that bike was a blown second gear due to too much speed shifting without the clutch. The Vincent transmission was a little fragile. As with the '39 Ford, second gear was its weak link.

I rode that bike for about a year until I got married to Evelyn. I had no money to buy her a diamond ring so I sold the bike for lousy $500 to the brother of my friend Richard (Nick) Nicoli, a fellow charter member of the Tyrods hot rod club. Francis rode the bike for a few months and it scared the hell out of him so he sold it. That was the last I ever knew of my Vincent. My daughter wears that diamond in memory of her mother and it's probably worth a few thousand dollars, but the motorcycle would be worth close to 100 grand today. Very few 1955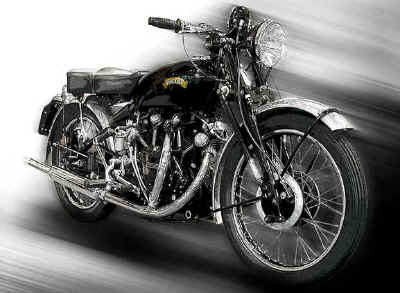 Series D's were manufactured before Vincent stopped building motorcycles and mine was the last one imported to the US. The company went bankrupt a few months after I took delivery of my Black Shadow.

I wish I still had my two British bikes and all the old cars I owned when I was young. They are all vintage items today, as am I.







All content copyright © 2010 Ty-Rods.org, all rights reserved.