Special Interest Club Related Items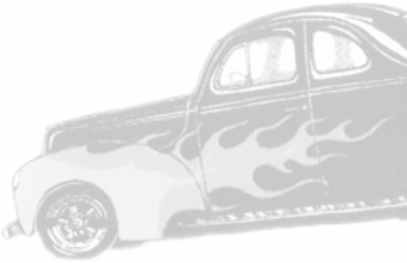 Useful Sites
Trials and Tribulations:
Humorous musings of events gone by






MY WHORE OF A DUECE ROADSTER


By: Mat Hurwitz

Back in 1980 or so I decided I needed a 1932 roadster. It had to be a steel car. It had to be full-fendered. It had to have a small block Chevy engine with hydromatic. I asked around to see if anyone might have a line on one. Ted Wingate told me to pick up the latest copy of Hemmings Motor News. He said my roadster was in the book and even told me what page to look at. The ad had a picture of the car and a pretty good description with a price of $13,000. I called the seller in Kentucky and I asked him many questions about the condition of the car, what was under the hood, what kind of upholstery it had, was the top any good, all about the paint, and...did the car run well enough for me to drive it from Kentucky to Massachusetts. Satisfied with the answers I decided to fly down to Louisville Kentucky to take a look for myself.

I packed up a box of tools, a carry-on with a few clothes, and took the next flight to Louisville. The seller met me at the airport and drove me to his shop which had a nice collection of 1955-1957 Chevys and this black 1932 Ford roadster. After inspecting the car and asking a few questions I decided to make an offer. The seller was pretty stubborn about the price but he came down to $12,000 and I bought it. The seller owned an auto parts store. I told him that part of the deal had to be that he would supply me with some spare parts to make sure that I could get home in case something broke. He agreed and put together a box containing a fuel pump, a fan belt, spare hoses and hose clamps, a set of points and condenser, an ignition coil, a distributor cap and rotor, and a 2 1/2 gallon gas can.

Armed with my tools, my spare parts, and a roadmap I headed for home. The weather was perfect. The car seemed to run well with one exception; the damn thing lost speed going up hills. The best way to handle the problem was to accelerate like hell going down hills to build up speed to climb the next one. I could've stopped by the side of the road to figure out what the problem was and to try to fix it but the cardinal rule with a strange car is to just get it home where you can work on it under no duress. When I hit the Pennsylvania Turnpike I noticed the car behind me keeping pace. It looked like any ordinary late-model sedan and I thought it kind of odd that he never passed me going uphill. All of a sudden I saw his flashing blue light in my rearview mirror. Whoops, an unmarked state trooper. He wrote me up for 85 mph in a 55 mph zone. I signed the ticket which had a price tag of $300 on it. I continued on my way limping slowly up hills until I left the Turnpike.

When I got home I took a peek under the hood and quickly diagnose the problem. The outer two carburetors on the triple manifold intake were barely cutting in even at wide-open throttle. The linkage adjustment took 15 or 20 minutes. After that the car ran great.

The car went straight into my garage. I told nobody about my new acquisition, not even Ted. I wanted to keep it a secret until the upcoming Tyrods Old-Timers Reunion which was only three weeks away. Finally the day came and I drove the car to the Hudson Elks Club. I signed in and drove across the bridge. I parked my car with the other club members' cars and was immediately surrounded by my buddies and a few strangers. The Tyrods were surprised to see me with this roadster instead of my faithful '32 five window which I have owned forever (another story).

Almost instantly Bob Magane walked over and told me: "Hey Mat, I know this car, I tried to buy it when it was a high boy but the guy wanted to keep the chrome plated dropped front axle set up and he replaced it with that Mustang front end. Another guy walked up to me and said: "I know this car, I bought it from (name forgotten). Those wind wings have the red striping that match the red stripes I had a guy paint on the car." He went out into the crowd and returned with another guy who said: "I used to own this roadster and I put the glass fenders on it."

Before the night was over, at least a dozen guys told me that they knew or owned the car, that it was always a Massachusetts car, and one of them, I forget who, said he was the one that sold it to the guy in Kentucky.

The idea of surprising everybody with this new car went down the drain. I felt like a guy who shows up at a party with his new girlfriend and everybody tells him that they knew her (in the biblical sense) years ago. deuce roadster was a whore.

All content copyright © 2010 Ty-Rods.org, all rights reserved.