Special Interest Club Related Items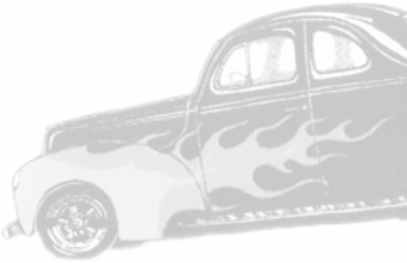 Useful Sites
Trials and Tribulations:
Humorous musings of events gone by






2005 California Hot Rod Trip by Mac Reid


Five Ty-Rods' members, Paul Burke, Frank Cutting, Jim English, Bob Parker, and Mac Reid decided to make a trip to California in January 2005. The primary attraction was the 50th anniversary of the Grand National Roadster Show in Pomona.

Jim and I arranged to leave on Friday the weekend before the GNRS in order to take in the famous Pomona Swap Meet. Saturday morning, Mac waited until Jim was showered and dressed before asking the time. Jim answered, "6:45." I got up and dressed only to find that Jim had not reset his watch (which he did not all week), and it was now 4:00 AM. We were all ready with no place to go.

Jim and I drove to Fontana International Speedway. We watched some Junior Drags near the entrance, before heading into the Speedway. We enjoyed an International Go-kart Association day of racing. These karts were traveling 150+ mph with the drivers' seats of their pants a couple of inches from the asphalt. Jim and I got to wander around the track and throughout the pits, talking with some very interesting racers.

Before that day was over, we decided to find the Pomona Fairplex, which is the site of the drag strip and of the swap meet, which would take place on Sunday. The gates were closed to all except exhibiters, so Jim and I found a parking place on the street and sneaked in to walk around for about two hours. Upon arriving back at our rental car, we found it being loaded onto a ramp truck, because someone did not like where it was parked. We pleaded with the truck driver, who finally relented to unload the vehicle for a "drop charge" of $52.50 cash.

On Sunday morning, "Early Bird" English had us parked in a line of cars, waiting to get into the swap meet at 4:50 AM in the dark. The Pomona Swap Meet is one of the biggest on the West Coast. There were huge "For Sale" sections for VWs and Porches, another for Corvettes, and another for everything else. Of course, there was a huge parts flea market. Jim ogled over several '33 Ford Cabriolets. I enjoyed the twelve '55-'57 Chevy Nomads, twenty '55-'57 Chevy pickups, and a number of Chevelle convertibles.

On Monday, Jim and I took a six-and-a-half hour bus tour around LA. We stopped at the Hollywood Bowl, Beverly Hills, the Farmers' Market, the Indian/Mexican Market, the LA Tar Pits, and Grumman's Chinese Theater, among other landmarks. We spent the late afternoon at the Petersen Museum, looking at ten former AMBR winners, an amazing Hot Wheels display (an example of every Hot Wheels vehicle ever made, and, some of the full-sized vehicles that inspired them), and many other terrific vehicles and dioramas.

On Tuesday, I began the day by documenting fifty-one hot rod shops listed in California in Street Rodder magazine. With a map, I planned out four days of routes to visit some of these shops. That day we started out at Total Cost Involved in Ontario. Evan Dalley, Sales Supervisor, who knows fellow Ty-Rods' member, Dave Simard, took us on a tour of their facility. Next, we headed to Walton Fabrication in Upland. Owner, Todd Walton, spent forty-five minutes showing us several hot rods and muscle cars he was working on. He also knows Dave Simard. He told us his wife is from Peabody, MA, and they are hoping to move to the East Coast.

The next stop was at Fred's Custom Wiring & Auto Works, also in Ontario. Fred was just leaving for lunch, when we introduced ourselves. He told us to tell Zach Phillips to show us around. Zack spent over an hour and a half showing us a variety of projects. I remember thinking that it is pretty neat that they have an outside lift, which someone was using in January! They were working on a '55 Chevy pickup, a '57 Chevy Hardtop with a beautiful chrome over aluminum engine ($28,000), a red '39 Ford Sedan that was going to the Grand National Roadster Show at the end of the week on that outside lift, and a '57 Chevy, which had a secret trunk entry in the left taillight by the gas filler, and then, a secret car entry in the trunk, between the spare tire and the fender.

We still had two more stops on our day's itinerary. First was the SoCal Speed Shop in Pomona. After a little coaxing, we had a tour by Gil Alvarez. [SoCal and TCI were the only two of twenty shops we visited that gave us a guided tour. The rest all allowed us to roam freely in their shops.] Jim and I met the famous Jimmy Shine, working on a Ford PU project. We had seen him race at Bonneville the previous August and would see him the next weekend with a group of SoCal vehicles at the GNRS. He even came to the Ty-Rods' Old Timers' Reunion in September 2007. We saw jigs for '32 Ford frames they were building, a showroom of parts, and one for clothing, in our forty-five minute tour. The last stop for the day was at Inland Empire Driveshafts. The boss was not around, but an employee gave us a half-hour tour, showing us how they made and balanced driveshafts. There were split shafts, huge truck shafts, brushed and polished aluminum shafts and steel shafts.

One day and five hot rod shops—what a day!

On Wednesday, day two of our hot rod shop tours, started at Bill's Hot Rod Company in Covina. We just missed meeting Bill, in his relatively small shop. We were allowed to wander around the shop, seeing the many varieties of brackets made there. Bill was building a Model A pickup with a huge rear end (?), a hand-modified front end, and a big block engine.

Next on our list was GEM Auto Repair, also in Covina. This stop wasn't as expected when we found that a neat ad in a magazine does not necessarily tell the story of what is at the location. At GEM, we met George Mompier, an old-time hot rodder who now is primarily a middleman for hot rod parts. His shop does mainly smog checks. He said he goes to forty weekend shows a year, hawking parts. He is building a neat old-timey '40 Ford Phantom hardtop with a big block Chevy engine. He told us he will only sell and use brackets made by Bill's Hot Rod Company and Gennie Shifters. We told George that we planned to visit Gennie Shifters. He said the fellow who started it first filled his garage and then began filling bedrooms, until his family moved out. He now has parts in every part of the house, except the kitchen and the bedroom, where he sleeps. We decided not to go there. [I believe that this business has expanded greatly and is now probably in a more industrial facility.] We spent an entertaining hour with George Mompier.

The next stop was at Flaming Engraving Street Rod Accessories in Covina. There we met Dave, "Mr. Valve Cover," Stotler. This too was not a typical hot rod operation, as half of the shop was for engraving on aluminum parts (mostly valve covers) and the other half was for military aircraft work.

The final stop on that day's list was at Tony's Auto Body and Restoration in Corona. Tony Magusin showed us around his nice, new, large open shop (beautiful new paint booth) with about ten employees working on about six to eight projects. It appeared to be a "crank-it-out" shop with an emphasis on buying and selling hot rods and muscle cars. Tony's office walls displayed pictures of cars that they built, with several cars and trucks in national magazines. He promised to keep his eye out for a '70-2 Chevelle for me and a '33 Cabriolet for Jim.

Before leaving, we asked Tony, if he knew about any other hot rod shops around. He at first said, "No," but then suggested that he had seen a number of trucks stopping at a building "up around the corner" that seemed to pick up hot rods. Wow, what a lead! This turned out to be the nationally famous Marcel's Custom Metal (also in Corona). The building where Tony sent us was a non-descript building with no sign out front. We walked in through a mostly empty, small office and out into a large cement-floored open room that put us in awe. There were Marcel and his two sons, Mark and Luke [I wonder where Mathew and John were hiding?] building a '32 custom Ford from scratch, for a dentist in RI, who visits every two weeks to see the progress. Marcel had a very heavy accent, but not the sons (who did not look anything like each other; tall, medium, etc.). Marcel told us it takes the three of them approximately 500 hours at $75 per hour ($37,500) to build a '32 Ford with custom features. They did, however, spend 1,000 hours on a Delahaye/LaSalle. They have hand-built seven AMBR winners. They build cars for Boyd Coddington. They are building twenty roadsters and twenty coupes for Jerry Kugel. They were also working on a swoopy '32 Ford with a 906 ci engine with 1,200 HP. The engine alone was worth $98,000. No two cars they build are exactly alike. This was an incredible hour well spent. The last fifteen minutes, Jim and I were wandering around in this shop while Marcel, Mark and Luke were eating their lunch in the office.

Jim and I picked up fellow Ty-Rodders, Paul Burke and Bob Parker, at the airport and headed to one more stop for the day. We went looking for Cragar Wheels and found ourselves at Carlisle Tire and Wheel Company in Ontario. It seems that Carlisle T & W bought Cragar to go along with their other house brands of specialty wheels. We inadvertently parked in the back of the factory and walked through unimaginable piles of wheels outside in various stages of completion. We were invited into the office of Mike McGarry, National Sales Manager, Aftermarket Products who spent a fascinating hour with us. It is difficult to believe that this company ships 15,000 Cragar and Unique wheels EVERY day. Mike McGarry is a best friend of Mickey Thompson's son. He talked about the strange death (a hit) of Mickey in his own driveway by two guys on bicycles.

The day ended by picking up Frank Cutting, the last to arrive Ty-Rodder, at the airport that evening.

Now there were five Ty-Rodders (Paul Burke, Frank Cutting, Jim English, Bob Parker, and me) on the loose in Southern California. Our Thursday morning was spent with Dale Armstrong in Temecula. Dale is an old friend of Bob Parker's, who spent sixteen years as crew chief for Kenny Bernstein (first dragracer to go 300 mph) and two years with Don Prudhomme. Dale had a huge L-shaped garage containing a shop and eight classic cars including a '58 Caddy Brougham with a Northstar engine, three '61 409 ci Chevys, a T-Bird, a 426 Plymouth, a '57 Chevy, and Wayne Gretsky's SUV.

Dale showed us another '58 Caddy Brougham in stripped condition for which someone paid $400,000 only to find that it was in poor condition. That person sold it for $180,000. Now several more hundreds of thousands are being put into it, including a rare Falconer engine. We were entertained with great stories for three-and-a-half hours, including, Dale treating us to lunch in downtown "Old Temecula."

After lunch, we traveled to John Force's shop in LaHabra. There was a huge gift shop, but, unfortunately, we could not go into the regular shop, as it was being renovated. This resulted in disappointment and a short stop. We quickly recovered at Boyd Coddington's shop, also in LaHabra. There were nine cars for sale in a large showroom. One '32 Ford was selling for $35,000, and all the rest were over $100,000. After watching for a half hour, while a TV crew was filming his TV show, we were allowed to walk out into the shop to view a variety of projects and watch Boyd's crew at work. One of the hot rods was getting ready for the GNRS. We wandered around out back of the shop and saw piles of wheels, although nothing of the scale at Carlisle/Cragar. It was an eventful hour and a quarter.

Next we moved on to Kugel Komponents, also in LaHabra. Owner/founder, Jerry was not there, but Jeff Kugel, one of two sons showed us around. We looked at the 307 mph Bonneville Firebird, which at that time, at least, was the fastest production car ever. In our hour's visit, we saw a '57 Chevy with a beautiful engine, a GT 40, a '50's era Jag, and a '32 Ford. Kugel Komponents specializes in trick independent rear end center sections, and we saw some beauties in various stages of construction.

On Friday, the road trip began at Mooneyes in Santa Fe Springs. There we saw a great retail collection of parts, clothing, memorabilia, etc., including an assortment of Ed Roth stuff. They had an attached garage bay with old Mooneyes cars, engines, bicycles with moon hubcaps, parts and memorabilia not for sale. As we wandered to some buildings out back, we watched an old-timer shaping something out of aluminum which we could not figure out. Since he did not speak English, we will never know. During this forty-five minute stop, Bob bought a five-gallon Moon tank for his '32.

Next stop was the Limeworks Speed Shop in Whittier. Owner Steve Dennish had taken a car to the Roadster Show, but an employee showed us around the shop and talked with us for about forty-five minutes. They sell some parts [This has expanded since we were there.], but they mainly build hot rods. There were three cars under construction.

From Limeworks we went to The Deuce Factory in Santa Ana. Jay and Lisa Fjastad bought the business from Jay's father, Roy, who was about seventy then. Roy originally started Full Bore Race Products, which produced tools used in racing. Roy was then in the process of developing a hand-built Bonneville Roadster. The chassis was there which displayed a mountain of technology. Lisa, who is from Massachusetts, and Jay, said they might be in Massachusetts that September and would come to the Ty-Rods' Old Timers' Reunion, if they were there at the right time.

Then off to Art Chrissman's shop in Santa Ana. Art, and son Mike, were working with two or three employees on a '56 Nomad (beautiful black car with handmade grill and underhood sheet metal), a bare metal '32 Roadster, and a '37 Caddy. Art's daily driver '57 Ranchero was in the shop also. We also saw the most gorgeous Ardun flathead engine, totally smooth and painted red.

Art suggested we walk up to the next building to Joe's Garage, part of Joe MacPherson's collection, which was run by Squeak White and one other worker. Squeak showed us the Brookville Roadster he was working on with a 605 ci V-10 Falconer engine worth $65,000. He also had a 1930's Indy racer and a nice '32 Tudor sedan.

Then off to our last hot rod shop tour; Mike Lourner's Pro Design Hot Rods, also in Santa Ana. This shop seemed to specialize in pickups, with a nearly finished '56 F-100, which was very trick. They also were finishing a '53 Corvette with a 2003 Corvette engine and suspension, and a '67 Chevy extended cab PU. There were magazine pictures on the wall of six or seven of their projects. Mike's dad, Louis, was building a neat '32 Bonneville Roadster, with his homemade double-walled heads and multiple-carbed manifold.

On Saturday, we got to the NHRA Museum [now Wally Parks NHRA Museum since his death] in Pomona, when it opened at 10:00 AM. The exhibits contained many of the dragsters, Bonneville cars and hot rods that we all read about in magazines over the last fifty years. My favorite was Mickey Thompson's four Pontiac-engined streamliner, which was the first wheel-driven vehicle to go over 400 mph. There was a luncheon there of "Hot Rod Heroes," including Linda Vaughan, Gene Winfield, George Barris, Wally Parks, Bob Petersen, Blackie Gejeian, Chris "Golden Greek" Karamesines, Tex Smith, Dennis Roth, and Kenny Youngblood.

After touring the museum, we went into the Grand National Roadster Show at the adjacent Pomona Fairplex. There was an amazing variety of hot rods, customs, etc., both in the buildings and outside. There were ten amazingly detailed and displayed cars vying for the AMBR (America's Most Valuable Roadster) trophy. We ran into Nevada Ty-Rodder, Marty McDonough, and wife Barbara, and East Coast hot rodder, Dennis O'Brien. On our way back to the motel, we stopped at a traffic light, and an old Toyota pulled up beside us. The driver called to us saying we looked like fun-loving guys. Would we like to share his (huge) pipe? We passed.

On Sunday, after taking Paul Burke and Bob Parker to the airport, Frank, Jim and I headed into LA. We started at the TV & Radio Museum, which was a disappointment. We then traveled to Hollywood Boulevard to see Grumman's Chinese Theater and to a so-so movie museum. We ended the week with a drive up into the Hollywood Hills to see homes built on stilts on narrow, winding streets on very steep hills. We took Frank to the airport Sunday night and the week ended with Jim and me returning home together, as we left, on Monday….but having seen twenty hot rod shops, the Pomona Swap Meet, Dale Armstrong's home and garage, the Petersen Museum, the NHRA Museum, and the Grand National Roadster Show.




All content copyright © 2010 Ty-Rods.org, all rights reserved.